Computational Materials Science
Overview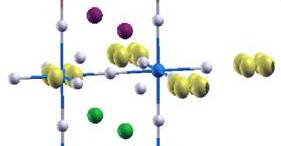 At the surfaces and interfaces of transition metal oxides (TMO) charge neutrality is disrupted. This leads to a multitude of unexpected phenomena that differ substantially from the behavior of the corresponding bulk materials. Our aim is to gain microscopic understanding of the mechanisms of charge accommodation and stabilization as well as the structure-property relation using state-of-the-art quantum mechanical simulations based on density functional theory (DFT). In order to reach the time and length scales relevant in surface science experiments or to predict the properties of materials at finite temperatures and pressures we combine DFT with concepts from statistical mechanics and/or thermodynamics. The systems we study are relevant both for technological applications e.g. in spintronics, catalysis and in earth and environmental sciences.
---
Current Funding:
Collaborative research program (DFG) SFB/TRR 80 "From electronic correlations to Functionality" (www.trr80.de)
Project C3 "Interface Induced Electronic States in Correlated Materials"
SPP1236 (DFG): Structure and Properties of Crystals at Hifh Pressures and Temperature
Project: Magnetic, Electronic and Structural Transitions in Iron Bearing Minerals under Pressure
---
News: Invited Review in The New Science of Oxide Interfaces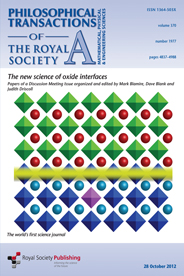 Termination control of electronic phases in oxide thin films and interfaces: LaAlO3/SrTiO3(001)
R. Pentcheva, R. Arras, K. Otte, V. G. Ruiz and W. E. Pickett
Phil. Trans. R. Soc. A 370, 4904-4926 (2012)
doi: 10.1098/rsta.2012.0202
A wealth of intriguing properties emerge in the seemingly simple system composed of the band insulators LaAlO3 and SrTiO3 such as a two-dimensional electron gas, superconductivity and magnetism. In this paper, we review the current insight obtained from first principles calculations on the mechanisms governing the behaviour of thin LaAlO3 films on SrTiO3(001). In particular, we explore the strong dependence of the electronic properties on the surface and interface termination, the finite film thickness, lattice polarization and defects. A further aspect that is addressed is how the electronic behaviour and functionality can be tuned by an SrTiO3 capping layer, adsorbates and metallic contacts. Lastly, we discuss recent reports on the coexistence of magnetism and superconductivity in this system for what they might imply about the electronic structure of this system.
---
Past events:
3rd Munich DFT workshop, Feb. 10th 2011
Goldschmidt Conference 2011, Prague 15-19. August
19c: Modeling Transition Metal Compounds: Oxides, Sulfides, and Interfaces
Convenors: Rossitza Pentcheva Ronald Cohen
Keynote: Udo Becker (University of Michigan) andJan Kunes (Academy of Sciences, Prague)
19g: Reactions and Catalysis: Mineral-Water Interaction, CO2 Sequestration, Electron Transfer
Convenors: Nora de Leeuw, Rossitza Pentcheva, Jim Rustad
Keynote: Kevin Rosso (PNNL)
Spring Meeting of the Materials Research Society (MRS) 2009 , San Francisco:
Symposium on "W: Novel Functional Properties at Oxide-Oxide Interfaces"
Interdisciplinary Symposium "Ferroic Materials and Novel Functionality" at the Spring Meeting of the German Physical Society (DPG08) , Berlin